Cowane's Hospital was built as an Almshouse from a Legacy of 40,000 Merks left by John Cowane, a prosperous Stirling Merchant, who died in 1633. The money was to be bestowed upon a Hospital or Almshouse to be built within the Burgh of Stirling, for sustaining twelve decayed Guild Brothers, Burgesses, or indwellers of the said Burgh.
The building stands between the Church of the Holy Rude and the line of the Town Wall. The Deed of Foundation establishing the hospital is dated 13th February 1637. Construction began in the month of May but the building was not finished until 1648.
The Plan of the hospital was uncommon in Scotland at that time as it is in the shape of the letter E. Employing two lateral wings and a central stair tower.
The building originally contained three stories, the main entrance is placed in front of the central tower and above there is a niche containing the statue of John Cowane.
The original internal layout of the building was altered around 1724 when the main block was divided into two half's and from that date the term Guild Hall was regularly used.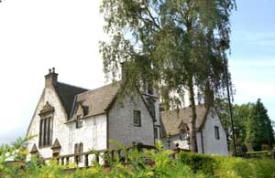 Later in 1852 the central floor was removed and a single Hall was formed as it is today. There is a magnificent stain glass window depicting John Cowane inserted in the South East Gable which is illuminated by the sun on clear days.
Further information may be obtained by contacting the Master & Factor –
Sharon Shortt
Master & Factor
The Patrons of Cowane's Hospital Trust
Scottish Registered Charity: SC019364
Tel:01786 472247